Products Products
Droppler monitors water use, can transform into speaker or camera
March 7, 2016 By Administrator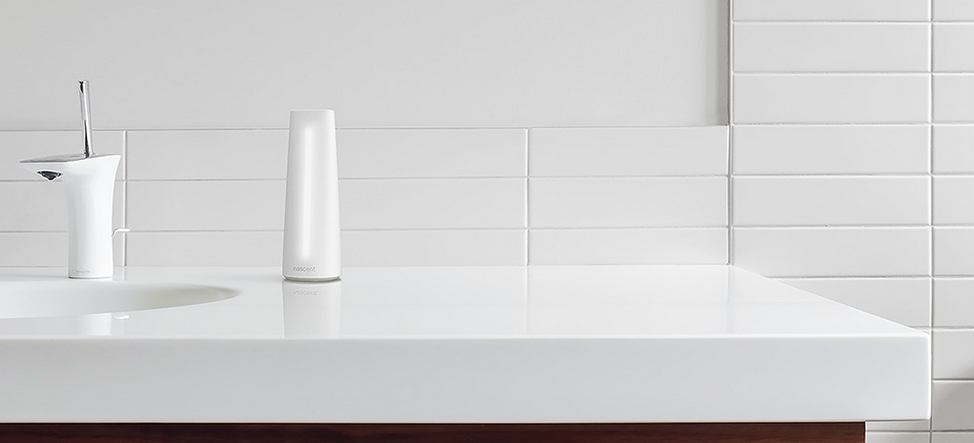 Las Vegas – Nascent Objects recently debuted Droppler, a water monitor that uses advanced audio recognition technology to track water consumption in real time, at the Consumer Electronics Show.
With minimal setup, consumers receive an immediate visual reminder of how much water is being depleted from their daily water budget to help change habits and reduce consumption, manufacturer Nascent Objects said in a news release.
Droppler is built with Nascent, a modular consumer electronics platform. Current modular systems have been limited to single-product categories such as personal computers, smartphones and smartwatches. Nascent products may be used for multiple types of consumer electronics and Internet of Things product categories. Nascent Objects' other modules transform Droppler into a streaming Wi-Fi speaker or Wi-Fi HD video camera. The idea is that in the future the monitor will be able to transform into hundreds of different products offered through Nascent Object's marketplace.
"With Nascent Modules and Shapes, there are endless opportunities for consumers interested in the coolest consumer electronics available. As effortlessly as I can change the batteries on my remote, I can transform a product from a water conservation device, to a bike computer to a drone," said Baback Elmieh, founder and CEO of Nascent Objects. "With the Nascent Modular approach, we have entered a new era where consumers don't have to settle for stand-alone products with predetermined features. Nascent gives users the ability to discover, upgrade and transform products as their needs change without paying full price for a new device."
Until now, it has been impossible to monitor water use in real-time to immediately see and adjust habits, the company said. A blind spot in resource consumption is that people are often unaware of how much of a specific resource is being used. Given the absence of instant feedback, the resource may appear invisible to the users at the time of consumption.
Jiaying Zhao from the Institute for Resources, Environment and Sustainability at the University of British Columbia conducted a recent studythat demonstrated simply making resources visible can substantially reduce consumption.
"One of the most effective ways to decrease consumption is surprisingly simple," said Zhao, assistant professor of psychology at the University of British Columbia, in the release. "Making the resource itself visible can substantially reduce consumption. A product like Droppler with its immediate, visual feedback of water use and its ongoing indication of monitoring usage will have a dramatic impact on individual water consumption habits."
Current water monitoring tools are complicated, and most require direct attachment to pipes, locating and augmenting watermains and other cumbersome installations. Droppler's processor uses pattern recognition technology to operate an audio-based water detection system. This means Droppler can recognize water usage in sinks, taps and faucets without being directly installed against pipes.
Droppler connects with an iOS or Android app to further analyze water consumption and see how small changes in water use lead to big results.
Design firm Ammunition, led by industrial designer Robert Brunner, worked with Nascent Objects to create Droppler and many of the company's modular consumer electronics.
Nascent's modular platform is built around a core technology innovation that enables on-demand 3D printing of circuitry.
As part of "Shock the Drought," a cause program aimed to help fight the California drought and beyond in partnership with Indiegogo, Save Our Water, Save the Drop and Water Deeply, led by Shock Top Brewing donated $50,000, along with marketing support, to help reduce the price of Droppler by more than 60 per cent, now available for $99 on Indiegogo (http://igg.me/at/droppler) and will also include a special bonus Nascent Modularity bundle, either a streaming video camera or Wi-Fi airplay speakers, to be selected at checkout.
Ground Water Awareness Week in Canada is made possible in part through the support of the Ontario Media Development Corporation (OMDC).
---
Print this page