Products Products
WET150 portable soil moisture kit takes instant measurements
July 5, 2021 By Ground Water Canada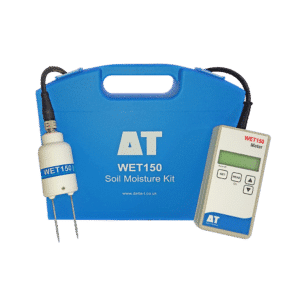 Hoskin Scientific's Delta-T WET150 portable soil moisture kit is a portable and rugged solution for researchers who need to assess moisture and salinity conditions in soils and substrates.
The kit takes fast soil/substrate measurements of three crucial variables that influence plant growth: moisture content, temperature, and electrical conductivity (EC) – a strong indicator of the general nutrient level.
The WET150 kit can be used solely for precise reliable readings of soil/substrate water content. However, the inclusion of electrical conductivity (pore water conductivity ECp) measurement makes it particularly well suited to horticultural research in the areas of fertigation, precision irrigation and soil salination monitoring.
The new lower-cost soil sensor kit is portable and comes with a lightweight and easy-to-use readout-only meter and case.
For more information, contact Hoskin Scientific at Oakville, Ont. (salesb@hoskin.ca), Burnaby, B.C. (salesv@hoskin.ca) or Montreal (salesm@hoskin.ca).
---
Print this page