News Water Issues
CWRA webinar outlines next steps for Canada Water Agency
October 22, 2020 By Ground Water Canada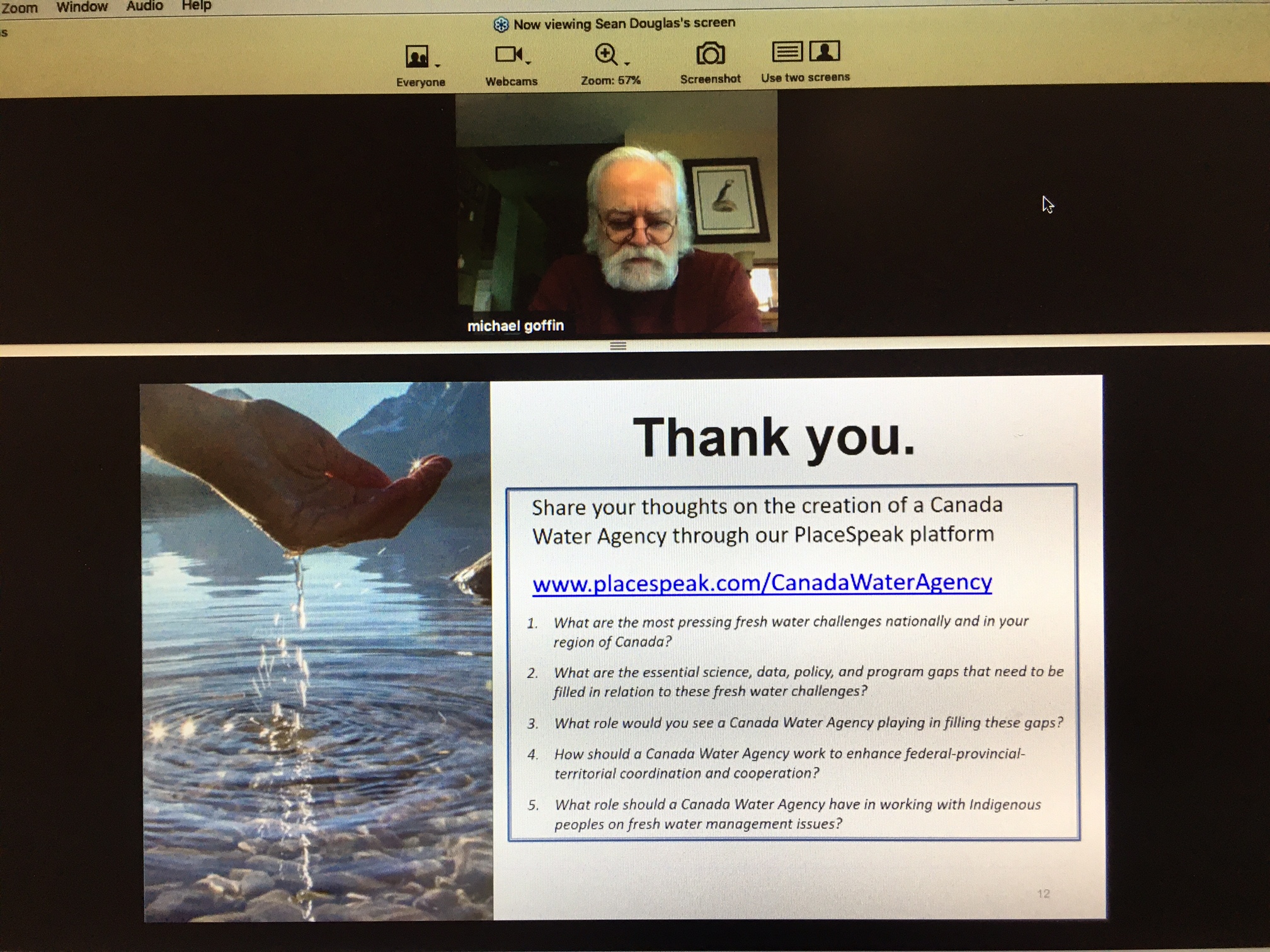 The Canadian Water Resources Association recently hosted a webinar to outline the federal government's plan to create a Canada Water Agency, its next steps and the potential role it will play in water management.
In mandate letters in December 2019, Prime Minister Justin Trudeau called on the ministers of the departments of Environment and Climate Change and Agriculture and Agri-Food to create the new agency to "work together with the provinces, territories, Indigenous communities, local authorities, scientists, and others to find the best ways to keep our water safe, clean and well-managed."
The two departments will work with other federal departments and agencies to explore current and projected future freshwater quantity and quality management challenges, which can differ vastly between regions and communities across Canada.
Protecting Canada's Fresh Water: Creating a Canada Water Agency, a free webinar presented by the Canadian Water Resources Association, featured Michael Goffin, regional director general for the ECCC.
Goffin pointed out that there are some 20 federal departments dealing in freshwater. Common concerns include the presence and growth of harmful algal blooms in our lakes, the need to protect transboundary aquifers and issues of water quality and access for Indigenous Peoples.
Goffin said a dedicated committee will consider the comments submitted by the public to its PlaceSpeak website launched in May. More than 6,000 Canadians have viewed the site and posted more than 300 comments.
They will be looking for "gaps and opportunities" and figuring out how this agency might address them, he said.
Comments on the PlaceSpeak website highlight several areas of concern that require attention:
• Transboundary nature of water
• Water well records – we have no standard for recordkeeping
• Education
• Stepping on the jurisdiction of provincial associations versus providing leadership
• The need to co-ordinate groundwater resources through co-operation among agencies
Here is a sampling of comments culled from those working in the groundwater industry:
Next steps
The committee will publish a discussion paper later this year or early in 2021 based on input they have received through PlaceSpeak and other sources so far. The public will be invited to comment on the paper. This period of open comment will last for the standard 60 to 90 days and will be followed by in-depth engagement with the provinces, territories and, particularly, Indigenous Peoples. Once a mandate and a structure are established, the agency will be created.
No date has yet been established for when the CWA will become operational, Goffin said.
Q-and-A
Goffin took a number of questions during the hour-long online session, including the following:
• Will transboundary water management be addressed by the Canada Water Agency? Goffin said at the moment this is addressed partially through International Joint Commission but it has been identified as an area that needs improvement.
• Will the agency develop or enforce policy and regulations? Goffin: "We don't have a mandate to develop legislation. Right now, we don't see the agency as having a regulatory component but we are open to discussion. Best practices and other roles could be considered."
• Can we see CWA working with Indigenous Peoples in a co-management situation? Goffin: "Yes, we're very interested in learning how we can work together with them. This will definitely be an area of interest."
• Will the agency take an advocacy role? Goffin: "I hope the agency will be a champion for freshwater and identifying challenges and issues."
• Are there other such agencies in other countries? Goffin: "The committee is looking at other models. . . . We will include a discussion of some of those international models in our discussion paper. We also have good models in Canada, for example, the Saskatchewan Water Agency."
• Will there be unified water quality standards? Goffin: "It's an option but we'll be seeking advice on this. We want to be collaborative, build consensus and, ultimately, be a value-added agency."
• Have there been any conversations around a funding model? Goffin: "No. That will be a step in the process. A number of commenters have commented on the need for increased funding."
• Have provinces and territories indicated support for the CWA? Goffin: "Almost all have indicated an interest in working with us. The agency is not intended to encroach on other jurisdictions and we will be engaging more fully."
These and other areas of concern will be addressed in discussion paper, he said.
Goffin encouraged all Canadians to comment through the PlaceSpeak website on five key question. He said the Parliamentary secretary is interested in hearing from anyone who wants to talk with us. They are organizing a number of workshops to engage on the discussion paper. He encouraged experts in science and legislation to come forward.
The CWRA provided a sample post to encourage everyone to share information on how Canadians can have their say:
Twitter – @environmentca LinkedIn – Environment and Climate Change Canada Instagram – @canenvironment Share your thoughts on the creation of the Canada Water Agency here: https://www.placespeak.com/en/topic/6321-protecting-canadas-fresh-water/#/overview
---
Print this page