News
Canadians to meet at Groundwater Week
November 14, 2018 By Ground Water Canada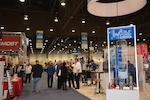 The National Ground Water Association's Groundwater Week, set for Dec. 3-6 in Las Vegas, offers something for every ground water professional with more than 250 exhibitors and 50 workshops.
Attendees also can benefit from more than 50 informative workshops in categories ranging from business management to water systems, take part in hands-on activity areas on such topics as drill rig safety and maintenance, and meet fellow professionals from all sectors of the ground water industry. Workshops and sessions begin on Monday and run throughout the week.
Contractors can investigate solutions to their technical and business challenges in the exhibit hall, which will be open for 12 hours over two days – Wednesday from 10 to 5 and Thursday 8 to 1. More than 250 exhibitors will be on hand to show you the newest in equipment, products, and services.
Networking events include the NGWA Welcome Party; a keynote presentation and awards of excellence ceremony featuring J.R. Martinez, actor, author, motivational speaker, and retired U.S. Army soldier; and the Groundwater Foundation Silent Auction and Reception.
Those from Canada and interested in the next steps in creating the Canadian National Ground Water Association should join us in Room N225/226 at 10:30 a.m. on Thursday, Dec. 6. The meeting is booked until 12 noon. Canadian members of the NGWA are invited to register as delegates for either Ontario or British Columbia affiliate associations, or as a Canadian if they are from one of the other provinces or territories. The delegates meeting on Wednesday, Dec. 5, from 6-7:50 p.m.
Visit groundwaterweek.com for more information on the program and registration (including how to access the Groundwater Week app).
---
Print this page